Ritzy digs Sonny's Hideway! Dark, low-lit, sultry and seductive, the ambiance at Sonny's makes this new eatery on burgeoning York Blvd.
Taking over the spot once inhabited by HPK, another pioneering classy-ish establishment in Highland Park, Sonny's may succeed by delivering far tastier dishes, creative cocktails and exceptional service.
The menu runs the gamut from classy to downhome. I ordered the steamed clams in smoked grape broth and bacon brussel sprouts. The sprouts where heavenly, decadent and infused with bacon ($5). The clams ($14), on the other hand, were a bit of a downer. While the concoction sounded promising, it was overtly sweet and I missed some of the briny ocean flavor associated with steamed clams.
Our friends ordered fall-off-the-bone short ribs and the bacon burger — both, reasons enough to return to Sonny's. The ribs ($20) were supremely tender and perfectly pared with a bone marrow hash. The bacon burger ($14) was otherworldly. One doesn't expect to find burgers like mom used to make at such a pretty place. I'm talking perfectly seasoned, peppery, crispy, onion infused patties–the kind mom would place between 2 slices of squishy, white Wonder bread. It was delicious.
Cocktails leaned towards 1920s vintage with heavy use of bourbons, whiskeys and rum. Again, some sounded great, like the Loyal Judith ($12) made with gin, orange, lime, chai, but missed the mark with me because it tasted a smidge too tea-like with not enough liquor oomph.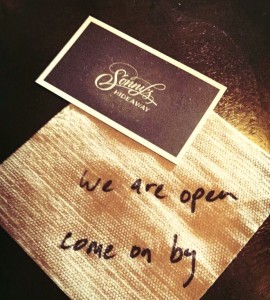 Our server, actress Krysten Ritter's doppelgänger, was warm, friendly, helpful without a hint of pretentiousness–after all, this is Highland Park and not the Westside. The kinks are all part of growing pains for the one-month young eatery, but I know Sonny's will make Highland Park proud when he grows up and I look forward to cheering him on.
Sonny's Hideaway, 5137 York Blvd., Los Angeles, 90042, (323) 255-2000