The Mideast Side: Silver Lake, Los Feliz & Echo Park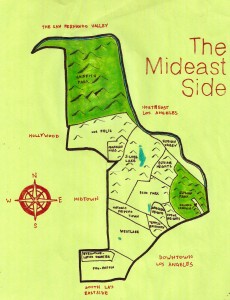 Summary: "The Mideast Side," lovingly coined by Silver Lake artist Eric Brightwell of Pendersleigh & Sons, is comprised of 12 distinct neighborhoods which include Los Feliz, Silver Lake and Echo Park. The huge variety of homes, restaurants, bars, businesses and residents makes this area among the most desirable places to live and play in Los Angeles.
Location: North of Downtown Los Angeles, south of Glendale, east of Highland Park. Bordered by the 101, 110 and 5 freeways. Minutes to Hollywood, DTLA and Glendale
Prices range from $500k around the 101FWY and Sunset Blvd. to the millions around the Reservoir and hills. Sunset Junction, one of the most desirable areas due to it's proximity to eateries, nightlife and shops, is dotted with many restored single family homes and small income properties (duplexes -fourplexes) in the $600k-800k range. The high cost of entry makes buying a duplex a great way to get into this very sought after neighborhood since a tenant will absorb most of the mortgage.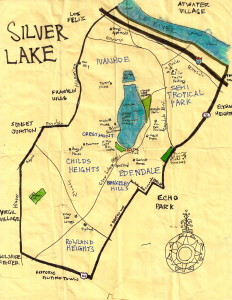 Homes styles in Silver Lake run the gamut from Mid-Century, California Bungalows, Craftsman and Spanish. Hillside homes offer sweeping views typically on narrow, steep streets where parking is a luxury. Luckily, you can walk to almost everything and leave the car tucked at home.
Just like the sheer variety of homes and hoods, Silver Lake has one of the most diverse communities anywhere in L.A. from hipsters, artists and musicians to long-time residents and the largest gay population outside of West Hollywood–it's historically a gay neighborhood after all. With mom n' pop businesses, natural beauty, parks and many of the best restaurants, clubs and bars in Los Angeles, you'll probably never want to leave.
Echo Park: One of the oldest neighborhoods in L.A., Echo Park is bordered by Elysian Park to the east and Silver Lake to the west. Homes and neighborhoods in Echo Park can be just as lovely, with less of Silver Lake's sticker shock.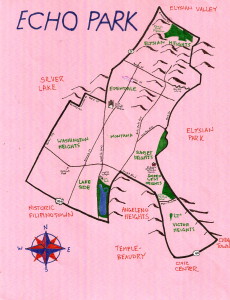 Up until the 1950s, Echo Park was a historically Latino neighborhood until City demands for land unleashed claims of eminent domain–most notably the Battle of Chavez Ravine which made way for Dodger Stadium.
Predominantly steep, green and hilly, Echo Park features nests of character homes from pristine Victorians in Angelino Heights to Craftsmans in Lakeside. Smaller bungalows dot the streets surrounding Alvarado and Glendale Blvd. where prices range from the low-$400k to mid-$500k for about 1000 sq. ft. While you'll get a compact home and lot, you might score enviable Downtown L.A. views. When you get higher in the hills or in the historic zones (Angelino Heights), prices can get up to Silver Lake territory up to the low millions.
Los Feliz: How's this for diverse? Los Feliz Blvd., which runs west-east, literally divides this picturesque neighborhood into two halves. The top half of Los Feliz only has millions dollar homes and pricy condos while the south has apartments, small bungalows and homes that tap out in the mid-$800k.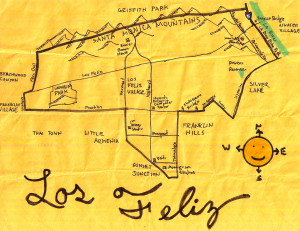 While you don't get million dollar homes in the south, you will get everything else Los Feliz if famous for, save for the Griffith Observatory. Los Feliz has two highly walkable commercial streets in Hillhurst and Vermont. Quaintly dubbed, Los Feliz Village, the area has one of the highest concentrations of eateries, shops, bars and 2 classic movie theaters, including one of the last 1930s movie palaces.
Site of countless movie shoots, film crews shutting down the Alcove, Fred 62 and other marquee spots rarely turns heads–neither do the starlets who frequent them.
Located close to freeways and minutes to Silver Lake, Echo Park, DTLA, Glendale and home of the main artery that connects the Eastside to the Westside by way of Western, Los Feliz boasts the most desirable geographic locations anywhere in L.A.