It's going to be a beautiful weekend Los Angeles! Here are some of the best, non-boring things to do in L.A.'s Eastside for the weekend of 8/3/12 to 8/5/12.

Friday, 8/3/12: Pixar in Concert at the Bowl
As many of you know, I'm a sucker for Pixar and have an incredibly soft spot for Up and WALL•E. I'll be attending with a box of tissues and Costco-sized Visine red-eye reliever for after. I've seen Up's first 4 minutes a million times and it still brings on the waterworks. I don't stand a chance this weekend when the music from those scenes are played live.
When: From 8/3-8/5, 8PM
Where: Hollywood Bowl, 2301 N. Highland Ave., Los Angeles, 90068
Cost: $11-162
Web: Pixar in Concert
Saturday, 8/4/12: L.A. Taco Festival
Celebrate gluttony for a great cause! Live music by LA's Las Cafeteras, a great cause and the best tacos the Eastside has to offer? ¡Si por favor! Thousands are expected this Saturday at the L.A. Taco Festival to grub, feast and donate to a great cause. 100% of the proceeds will benefit Jovenes, Inc., a Boyle Heights non-profit for homeless and at-risk youth.
Taco Roll Call: La Barca Grill & Cantina, Candela Taco Bar & Lounge, Daniel's Tacos, El Tepeyac Café, Pinches Tacos, Ricos Tacos, Tacos El Gallito
When: 8/4, 12PM-8PM
Where: Mariachi Plaza Station, 1 St. and Boyle Ave., Los Angeles, 90033
Cost: FREE
Web: L.A. Taco Festival
Sunday, 8/5/12: LA Weekly's Pancake Breakfast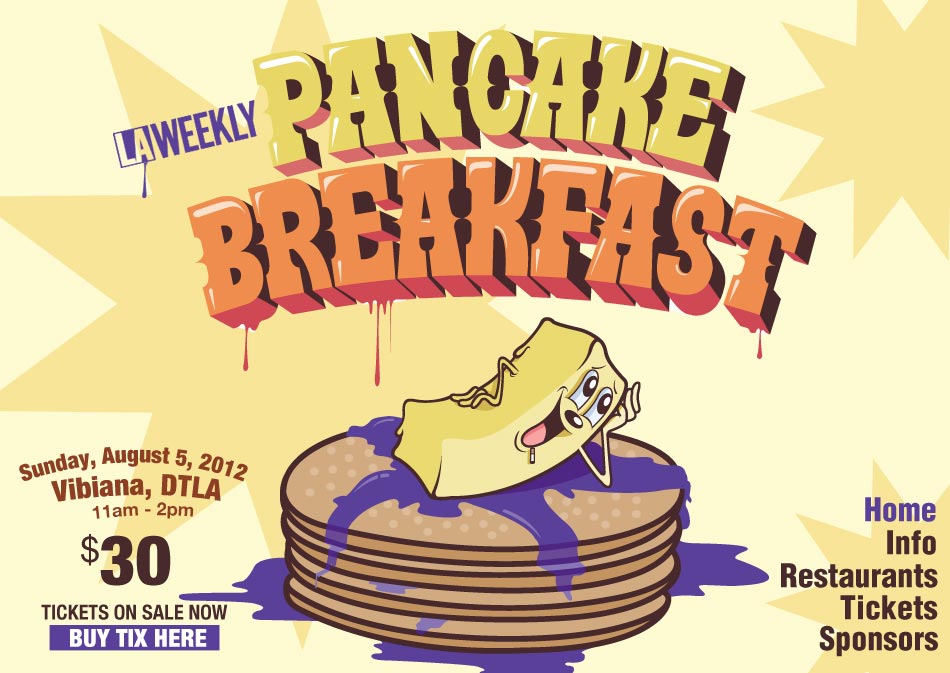 More gluttony for a great cause! Enjoy and exclusive selection of bfast goodies from the likes of Auntie Em's, BLD, Cafe de Leche, Cafecito Organico, Canele, The Village Bakery and many more! A portion of the proceeds will benefit Project Angel Food, which provides daily meals for people home-bound or disabled by HIV/AIDS and other serious illnesses in Los Angeles.
When: 8/5, 11AM-2PM
Where: Vibiana, 214 S. Main St., Los Angeles, 90012
Cost: $30
Web: LA Weekly's Pancake Breakfast