Mini Kabob (5/5) Mini Kabob has been on my Yelp bookmarks for almost 4 years. I was in no rush to try it out considering that my quota for awesome Armenian/Persian delights had been filled 6 years earlier by Raffi's Place. Looks like a spot just opened up!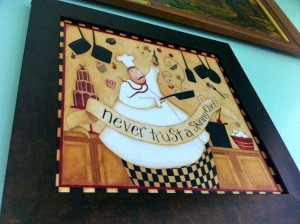 Everything you've read and heard is true! This tiny hole in the wall, with a whopping 3 tables, serves up some of the tastiest, most satisfying food I've had in a very long time. I know this is cliche, but it tastes homemade. Everything on my beef and chicken lula combination plate was infused with flavor, freshness and, quite possibly, love.
This little eatery is owned by Hovik and Ala, a husband-wife team who greet every customer like a son or daughter. Hovik tends to the front house duties including offering suggestions, bringing drinks and changing the channel to more appropriate TV fare for diners. Noticing our youthful appearance, he quickly switched from a Russian Armenian action movie to MTV's "Pauly D Project." Sh'norhakal em, but we would have preferred the Russian movie.
While Hovik chats up the customers, Ala's preparing magical hummus. I know what you're thinking. Hummus is hummus, right? Wrong! The hummus here is amazing and delightfully different in texture and flavor. Again, no other way to say this, but the hummus was like crack and I was hooked. I could have made a meal out of this magic dip and the warm and fluffy lavash bread.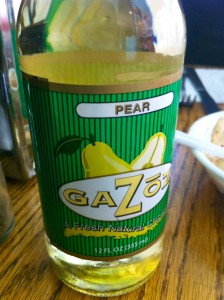 Now to the really good stuff: the meat. Hovik pumped up the chicken lula, which was good, but the beef was the star. Juicy, meaty and full of flavor. The only thing I'd complain about is that there weren't 3 more skewers to devour. Special shout out to Gazoz's pear soda. It's like apple cider, but so much better.
When we left, Ala gave us more candy than we could eat, Hovik reminded us to never trust a skinny chef (strangers), smiles and waves goodbye that reminded us of visiting with our grandparents. It was so comfortable at Mini Kabob you might just catch me in my jammies and fuzzy slippers next time.
Mini Kabob, 313 Vine St., Glendale, 91204, 818-244-1343