A little over a year ago on YouTube, I came across a version of "La Bamba" with a sound so infectious, I couldn't get it out of my mind. Reinterpreting this classic Mexican folk song were Las Cafeteras, a band comprised of 7 native Angelenos hailing from L.A.'s Eastside.

In a little over 5 minutes, this group of 20-30 year olds, managed to create something Miley Cyrus could not: lure you in with the music, then lovingly strike you over the head with images and messages that resonate with anyone who calls Los Angeles home–particularly Eastsiders. In those 300 seconds, they featured York Blvd., East L.A., MacArthur Park, eating Bánh mì in San Gabriel Valley, women's rights, the Dream Act, immigration reform, the war and Eastside institution, Father Greg Boyle of Homeboy Industries. One minute later, I was a fan.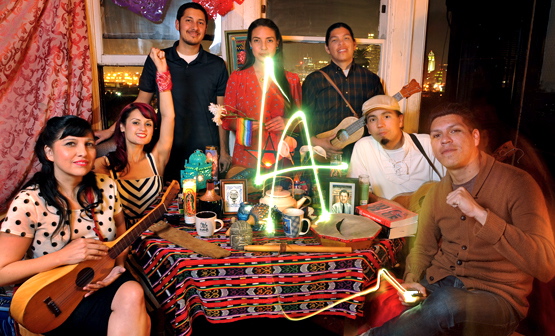 I got the chance to sit down with the ladies of Las Cafeteras last week at beautiful oasis-in-the-city, Holy Grounds Coffee & Tea in El Sereno. What's most striking about meeting Denise Carlos (vocals, jarana, zapateado, glockenspiel), Leah Rose Gallegos (vocals, quijada, zapateado) and Annette Torres (marimbol, zapateado) is how young and unassuming they are–a tremendous departure from their charismatic, commanding stage personas.
Established in 2005, the ensemble came together while taking classes on Son Jarocho, a folk musical style from the Mexican state of Veracruz, at El Sereno's Eastside Café. As a community center, it hosts free and donation based English, dance, music and yoga classes, exhibits by local artists and other activities to bring the community together. What the Eastside Café is not, ironically, is a café.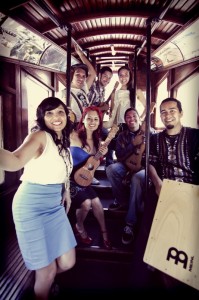 Bandmate Hector Flores (vocals, jarana, zapateado) was instantly drawn to the style of music played by Angela Flores, an early instructor of Son Jarocho at the Eastside Café. Wanting to be taught, she asked him to bring other prospective students together. With a nod to their Café namesake, Las Cafeteras was pared down to 7 friends and the band was born.
A fusion of African and indigenous music, Son Jaracho originated in 18th century Veracruz with songs that touched on life in Mexico, especially under colonial rule. Lyrics often spoke to love, pastoral life, struggle and oppression. "It opened a history that we didn't know about," said Carlos.
The music was most recently the galvanizing force behind the 2006 protests involving the controversial sale of the South Central Farm, one of the largest urban community farm's in the U.S. "When people were losing this garden, this style of music was at the core of the struggle," said Torres. "It was an amazing experience," she said. "This music was born from struggle 500 years ago and now we were going through it. Even though there's struggle, you're reminded that there's also love, beauty and a community."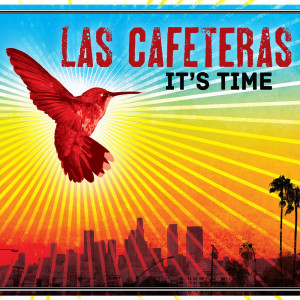 Their version of "La Bamba," rechristened "La Bamba Rebelde" off their debut "It's Time," is a cornucopia of sound, percussion and beats so irresistible, it's impossible to stay seated. Though still a young band, their live shows are becoming the stuff of legend. From their packed-to-capacity, exuberant show at last year's Eagle Rock Music Festival, this year's SXSW, multiple invitations to DTLA's Grand Performances and winning the first round of the Dewaristas competition to open for megastar Juanes, they have proven themselves to be a live act to contend with.
Even with heavy lyrical themes like women's rights, marriage equality, immigration reform and war, there's an undeniable joy that radiates in their music and performances. Perhaps, it's a result of stumbling on a career they never anticipated. "Our group coming together was an unexpected gift from the universe," said Carlos, who earned a graduate degree before joining the band. "I wake up every morning thinking, 'I'm a musician! How great is that?'" said Torres beaming. "I used to wake up and go work at a doctor's office and as a waitress and now I get to do this!"
While their momentum is growing at breakneck speeds, when asked if they feel they've "made it," Carlos cheekily replied, "Let me call my boss and ask him." They worry about the term "making it," because it implies a contentment and settlement. "I hope that we always continue to grow, transform and strive," said Gallegos.
With an uncanny ability to introduce hot button, L.A.-centric topics in ways so inviting, it encourages discourse rather than anger or bullheadedness. "For us, we want to share who we are and what we do to help each other grow," said Gallegos. "We're taught to live a very individual life where it's just about 'me, me, me,' but there's a lot of reminders on the Eastside to give of yourself."
As a band they carry many labels: Vegans, Angelenos, Eastsiders, community organizers, activists and feminists, but there are a slew of other words they represent. If their multi-ethnic patchwork of Angelenos in their video for "La Bamba Rebelde" is any indication, they're also teachers, lovers, dreamers, inclusive, enthusiastic cheerleaders for L.A.'s Eastside. They're the explosive sound of the Eastside–the sound of the L.A. that I know and recognize.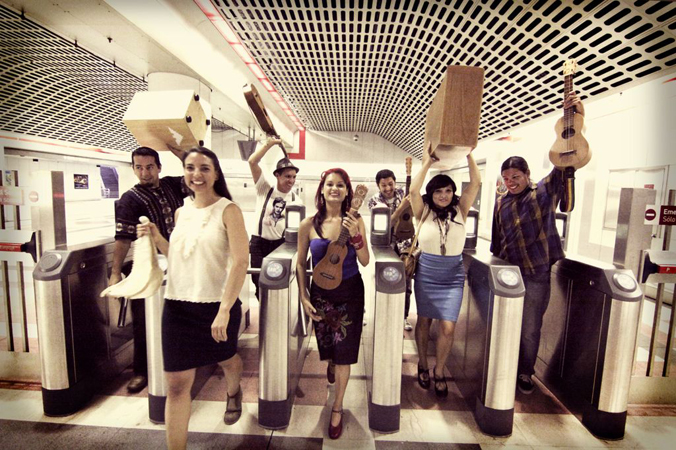 Check out their newest video and soon-to-be wedding first dance favorite, "Luna Lovers" and help give our very worthy L.A. band the win to open for Juanes by voting online. Better yet, see them live at their upcoming show with the L.A. Philharmonic!