Friday, 4/5/13: Happy Hour at Pour Haus
Looking for things to do in L.A. this weekend? Class it up today with happy hour and complimentary truffled popcorn at DTLA's Pour Haus.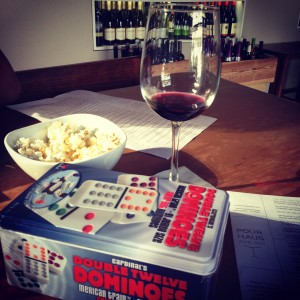 Located in the Arts District (near those joity toity lofts that used to sell in the 800ks), I got the chance to relive my college years with healthy servings of booze whilst killing it at dominoes, Connect Four and Scrabble.
I also noshed on cured meats, cheeses (moo and goat), an exquisite bruschetta and truffled popcorn by the bucket. Ample street parking and valet nearby.
When: Daily, 4PM-7PM
Where: Pour Haus Wine Bar, 1820 Industrial St., Los Angeles, 90021, (213) 327-0304
Cost: $5-25
Web: Pour Haus
Saturday, 4/6/13: 5th Annual L.A. Beer Fest
Fill your belly with brews for a good cause! Last year's event sold out and this year's is close to repeating. Imbibe on unlimited craft beers while enjoying edible goodies and live music from local bands. A portion of the  proceeds will benefit Noah's Bark Animal Rescue.
When: Sat. 4/6, 1-3PM and 5-8PM
Where: LA Beer Fest at Paramount Studios, 5555 Melrose Ave., Los Angeles, 90038
Cost: $40; designated drivers $15
Web: LA Beer Fest
Sunday, 4/7/13: Hollywood Spice Alley
From the Organizers: The beloved Hollywood Farmer's Market is about to get even hotter with the addition of "Spice Alley," a new extension of the market devoted to spices and bulk food items, while restaurants backing the alley will present a selection of exciting spice-related food and drink specials.
When: Sun. 10AM-2PM
Where: EaCa Alley, 1604 N. Cahuenga Blvd., Los Angeles, 90028
Cost: FREE
Web: Spice Alley