Friday, 3/8/13: La Descarga
Looking for things to do in L.A. this weekend? Kick off your weekend with a sultry, sexy romp at La Descarga in Hollywood.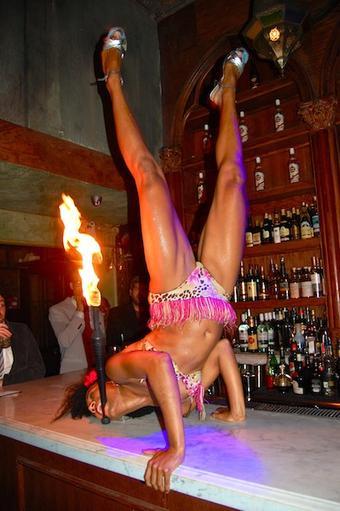 Meaning "to unburden," this uniquely L.A. speakeasy is a throwback to when ladies and gents would dress to the nines for an evening of live music, custom crafted cocktails, burlesque performers and fire dancers. Be sure to dress up more than expected, you won't be granted admission through the secret passageway if you're not. Reservations required.
When: Fri. 3/8, 9PM-2AM
Where: La Descarga, 1159 N. Western Ave., Hollywood, 90029
Cost: $20-300
Web: La Descarga
Saturday, 3/9/13: NELAart Gallery Night
NELAart invites Angelenos to explore NELA and its dozens of art galleries. Home to a thriving community of working artists, NELAart is dedicated to increase the visibility of the thriving arts community in the area.
When: Sat. 3/9, 5PM-11PM
Where: Various location in Highland Park, Eagle Rock & Cypress Park
Cost: FREE
Web: NELAart
Sunday, 3/10/13: Hops & Brats, Featuring Eagle Rock Brewery
From the Organizers: Craft Beer lovers unite! This Sunday, Eagle Rock Brewery will be in-house for an exclusive one-day tasting event. The event will include tastings of four artisanal sausages paired with Eagle Rock Brewery's craft beers. Plus Eagle Rock Brewery will be in-house to discuss each pairing. More info here.
When: Sat. 3/10, 1:30PM-4PM
Where: Knackig, 128 E. 6th St., Los Angeles, 90014
Cost: $20
Web: Hops & Brats