Friday, 7/20/12: Oscar's Outdoors
Catch Rock & Doris in Pillow Talk (Friday), reenact "The Crane" at The Karate Kid (Saturday) or channel your inner JHud at Dreamgirls this weekend at the Academy of Motion Picture Arts and Science's new open air theater!
Trucks: Komodo, Hungry Nomad, Brasil Kiss, Greenz on Wheelz and many more!
From the Organizers: The series features a permanent 40 x 20 foot screen, a 10,000 square-foot plaza, and lawn seating (blanket or low chair). Food trucks will be curated by Roaming Hunger and tailored to the movie showing whenever possible.
When: 7/20, 8PM
Where: 1313 Vine St., Los Angeles, 90028, 310-247-3000
Cost: $3-5
Web: Oscars Outdoors
Fusion Fridays at Pacific Asia Museum
We're turning up the volume for a night of music! Enjoy a live performance by Minyo Station, dance to Bhangra and Bollywood soundtracks spun by Jeremy Loudenback and Arshia Haq, and enjoy demonstrations of Chinese instruments in the galleries with String and Bamboo Music. Featuring food trucks India Jones and Paradise Cookies. Get your tickets on Eventbrite.
When: 7/20, 7:30-10:30PM
Where: 46 N. Los Robles Ave., Pasadena, CA 91101, 626-449-2742
Cost: $15
Web: Fusion Fridays
Saturday, 7/21/12: L.A. Street Food Festival
Join thousands of like-minded gluttons at Saturday's LA Street Food Festival at the Rose Bowl. There's going to be live music, crafts and other vendors, but lets be frank, you're going for the food.
When: 7/21, 3-9PM
Where: Rose Bowl, 1001 Rose Bowl Dr., Pasadena, 91103
Cost: $45-65
Web: L.A. Street Food Festival
BloomFest LA: Music + Art + Food + Crafts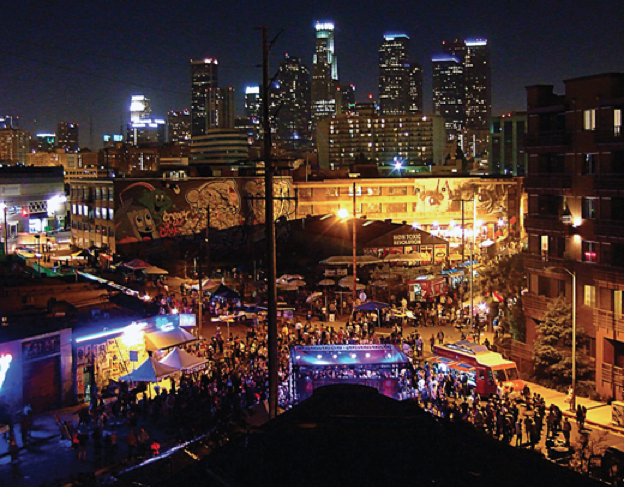 From the Organizers: Presented at 3rd Street and Traction Avenue in the Downtown Arts District, BloomfestLA offers live indie music, local artisan wares, and good food amidst a rotating outdoor gallery of street art by renowned artists
When: 7/21, 2-10PM
Where: Downtown Arts District, Los Angeles, 90013
Cost: FREE
Web: BloomFest LA
Sunday, 7/22/12: Los Feliz Village Street Fair
Join an estimated 20,000 this Sunday for food, live music, vendors and more food at the Los Feliz Village Street Fair. The fair, started in the early 1990s by a few restaurant owners who wanted to thank the community for their patronage, the fair has grown into an explosion of talented local shop & restaurant owners, artists and musicians bringing their very best to attendees more diverse than most cities in the U.S.
When: 7/22, 11AM-10PM
Where: Hollywood Blvd. between Vermont and Hillhurst, Los Angeles, 90027
Cost: FREE
Web: Los Feliz Village Street Fair