Friday, 6/1/12: Old Town Pasadena Restaurant Week
From the Organizers: Old Pasadena's finest restaurants have joined together to offer you several delicious options for three-course lunch and dinner menus at one great fixed price. 10% of event proceeds will benefit Union Station Homeless Services, helping those in need. Lunch: $15 & $25. Dinner: $25 & $35.
Restaurants: 1810 Restaurant, a/k/a American Bistro, Bar Celona, POP Champagne & Dessert Bar, Roxolana Restaurant & Wine Bar, Sushi Roku, Tibet Nepal House, Vertical Wine Bistro and many more!
When: 6/1-6/14, 12PM-12AM
Where: Old Town Pasadena, 1 E Colorado Blvd., Pasadena, 91103
Cost: $15-35
Web: Old Town Pasadena Restaurant Week
Saturday, 6/2/12: Hester Street Fair
From the Organizers: This is an amazing collaboration of great food and indie crafts at it's finest! LA's favorite restaurants, indie food chefs and a selected group of food trucks bring their best menus in Bite Size portions. Everything is Bite Sized to encourage foodies to taste and discover something new. Over 120 amazing arts and crafts, vintage vendors and collectors will be joining us for our premiere event, tapped off with a craft beer garden and live music.
When: 6/2, 11AM-7PM
Where: Empty lot at Hollywood and Argyle, Hollywood Blvd., Los Angeles, 90028
Cost: FREE
Web: Hester Street Fair
Eat|See|Hear with "The Wedding Singer"
From the Organizers: Featuring the only three-story high, 52-foot wide inflatable movie screen west of the Mississippi, Eat|See|Hear offers an unrivaled outdoor movie experience with digital HD projection and state of the art line-array audio. Prior to each movie, local up and coming bands will perform live and popular gourmet food trucks will provide great food to round out the fun. Dogs on leash welcomed. No outside booze permitted as there will craft beers on hand.
When: 6/2, doors open at 5:30PM
Where: Centennial Square, Pasadena City Hall, 100 North Garfield Ave. Pasadena, CA 91101
Cost: $10-20
Web: Eat|See|Hear
Sunday, 6/3/12: 10th Annual Taste of Alhambra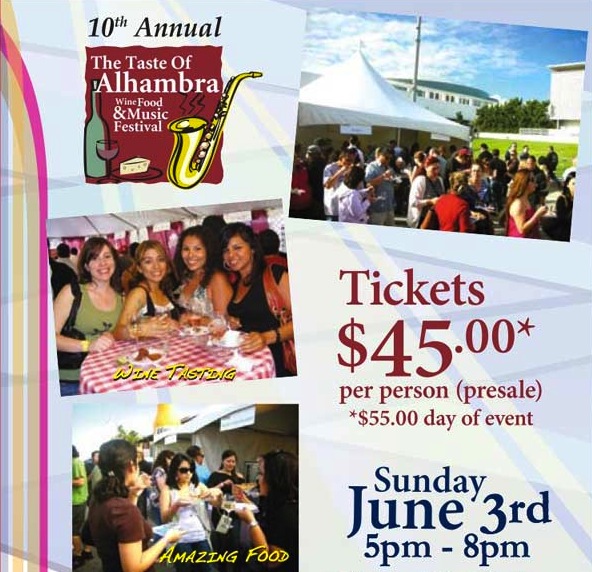 From the Organizers: The very best of Alhambra food, wine, brews and music to benefit the Alhambra Educational Foundation.
When: 6/3, 5PM-8PM
Where: Alhambra Mosaic on Main, 2nd & Main St., Alhambra
Cost: $45-55
Web: Taste of Alhambra