Friday, 6/15/12: Great Highland Park Taco Crawl
Join some of the most ravenous and active Los Angeles Eastside Yelpers for the Great Highland Park Taco Crawl. At last count, more than 100 well-connected Eastside foodies have confirmed!
From the Organizers: On this tour, it's about 4-5 different taco stands all within a half a mile walking distance. Plenty of party liquors to enjoy via the markets and hipster-centric bars. Trucks include La Estrella, El Pique, Tacos de Pelon and more. Tacos will range from $1 to $1.50. Meet at La Estrella at 7:30PM. We'll be there for 20 minutes. If you miss us, just drive east on York until you see a big group of people who clearly do not belong.
When: 6/15, 7:30PM-12AM
Where: Meet at La Estrella Taco Truck on York and Ave. 54 at 7:30PM
Cost: FREE
Web: Great Highland Park Taco Crawl
Saturday, 6/16/12: Langer's Turns 65 FREE #19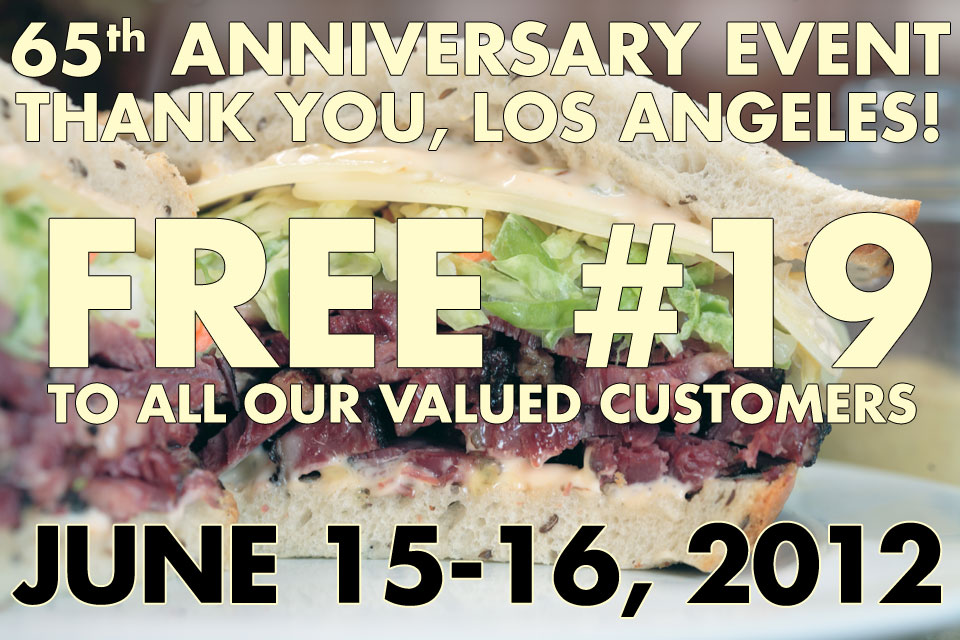 From the Organizers: Did you all know that Langer's Deli first opened its doors as a 12-stool luncheonette at 704 South Alvarado on June 17, 1947. Norm's parents, Al and Jean Langer, created the #19 sandwich as part of their signature menu featuring numbered entrees. The #19 features hand-cut hot pastrami, cole slaw, Russian dressing, and Swiss cheese, all on warm, double-baked rye bread with a crunchy crust. Each customer is eligible for 1 FREE #19! There will be full street closure on 7th street and 710 ESPN will be broadcasting live!
When: 6/15-6/16, 8AM-9PM
Where: Langer's Deli, 704 S. Alvarado St., Los Angeles, 90057
Cost: FREE
Web: Langer's Deli
Make Music Pasadena
With a lineup worthy of its own music festival, Make Music Pasadena is day-long celebration of some of the best new artists like Grouplove, Dengue Fever, The Cults and 100 more for FREE! KCRW DJ Jason Bentley will be on hand and so will an estimated 35,000 attendees.
When: 6/16, 11AM-11PM
Where: Downtown Pasadena
Cost: FREE
Web: Make Music Pasadena
Sunday, 6/17/12: Meat & Dancing Girls For Dad
Save dad (or your uncle, grandpa or father figure) from that sad little tie, toolbox and grilling duties this year by treating him to the best bovine L.A. has to offer. After all, nothing says happy Father's Day like fire, meat and dancing girls.
Soonwon KBBQ is without question, one of the best KBBQ spots in Ktown…but then again, where isn't KBBQ great in Ktown? While this isn't an AYCE (all-you-can-eat), combos, like the one pictured above, average $25 and can easily feed 1-4, depending on how ravenous you're feeling. 856 S. Vermont Ave., Ste. C, Los Angeles, 90005, 213-365-9292
M Grill is my favorite Korean-owned, Brazilian churrascaria. The owners and nearly the entire staff are Brazilian of Korean heritage. The meats are incredibly tasty, the caipirhinas are stiff and while there's no banchan, the salad bar is pretty good. Father's Day Special, $46.99, includes champagne and dessert. 3832 Wilshire Blvd., Los Angeles, 90010, 213-389-2770
Gaucho's Village was the first Brazilian churrascaria I ever tried in my life. This was before I realized how much I love red meat. It was also one of the first to open in L.A. Enjoy the samba dancers, stay for the hookah on the rear patio. Samba show Fri.-Sat. nights + AYCE $37.99. 411 North Brand Boulevard  Glendale, 91203, 818-550-1430