Got a chance to check out the Glendale branch of Hollywood Hookah this weekend and all I've got to say is, can't wait! With the official grand opening scheduled for Saturday, June 30th, this hookah lounge and bar hopes to bring a little action to this sleepy part of Glendale's Brand Blvd. Seriously, as much as I love Glendale, the main strip is dead by 8pm, even on weekends, save for the Americana.
The General Manager, a tiny powerhouse with a ton of charisma, said they hope to bring out Eastside locals with great beats, style, innovative drinks and of course, hookah. We smoked "Dirty Money," a minty treat that was the best flavor we've tried in recent memory. Happy hour features 1/2 off drinks and sake bombs until 2AM daily.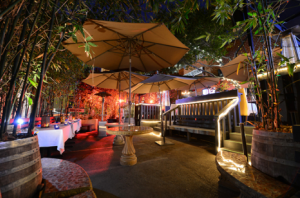 The venue has a really seductive ambiance, especially considering this was once the alley behind Gaucho's Village. When you enter, a lush, vine-flanked pergola and walkway conceal a beautifully lit space. Multiple decks and landscaping set up for privacy make this new addition a place I want to return to again and again.
Upcoming events: Music + Fashion, Fri. 6/29, Official Opening, Sat. 6/30.
Hollywood Hookah Glendale, 411 N. Brand Blvd., Glendale, 91203, 8PM-2AM