Friday, 5/18/12: Sake Festival at Chaya
From the Organizers: When I say "SAKE", you say "BOMB!!" Enjoy an evening of Sake tastings, small bites and entertainment, featuring:
9 regional Sake breweries based throughout Japan
26 different boutique Sakes
Complimentary sushi, small plates and appetizers
LIVE Taiko Drummers from the Taiko Center of LA
When: Fri, 5/18, 6PM-8PM
Where:  Chaya Downtown, 525 S Flower St., Los Angeles, 90071, 213-236-9577
Cost: $35
Web: Sake Festival
Saturday, 5/19/12: 50th Annual Renaissance Fair
Someone from my household (not me), who shall remain nameless, is a huge fan of the Renaissance Fair. Lucky for me, this is the last weekend to summon your inner maiden, knight or pirate. I'll be going kicking and screaming, he'll be going as a pirate…as per our agreement.
When: Sat-Sun, 5/19-20, 11AM-7PM
Where:  Santa Fe Dam Recreation Area, 15501 E. Arrow Hwy., Irwindale, 91706
Cost: $15-25
Web: Renaissance Fair
Echo Park PDA (Public Displays of Art)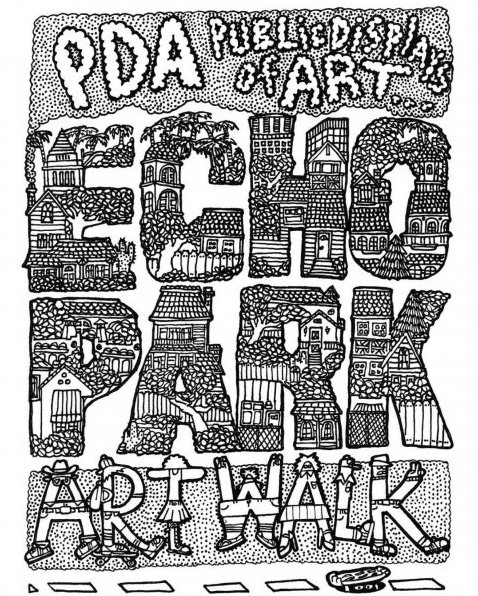 From the Organizers: The Echo Park PDA (public displays of art) Art Walk is a one day event that turns the neighborhood into a fun, playful and engaging artistic landscape!
Ready for a sidewalk adventure?  Explore and discover chain link fence galleries, driveway theaters, sidewalk chalk art, performance art, live music, film screenings, food trucks, sidewalk dancing, hands on workshops, sculptures, special store promotions, and other various creative & mind stimulating public displays of ART!
Whether it's on foot or bike enjoy a day of art, inspiration, connection, and celebrating the community of Echo Park!
When: Sat, 5/19, 12PM-6PM
Where: Echo Park Ave. and Sunset Blvd., Los Angeles, 90026
Cost: FREE
Web: Echo Park PDA
Sunday, 5/20/12: 29th Annual Long Beach Pride
The 29th Annual Pride Festival in Long Beach should be a thrilling one as this would mark the first Pride celebration in Los Angeles since President Obama's recent landmark announcement on marriage equality. The Long Beach festival has always been my favorite for its diversity and inclusiveness. The parade kicks of Sunday at 10:30AM on Cherry Ave./Ocean Blvd. at Bixby Park
From the Organizers: Join us for the 29th annual Long Beach Lesbian & Gay Pride celebration on May 19 & 20, 2012 from 11 am – 10 pm along Shoreline Drive. Over the past several years, the Long Beach Lesbian and Gay Pride Celebration has become one of the premiere Pride events nationwide now attracting over 80,000 participants over two days.
When: Sat-Sun, 5/19-20, 11AM-10PM
Where: Shoreline Dr., Long Beach, 90802
Cost: FREE
Web: Long Beach Pride