Friday, 4/27/12: Pico-Robertson Block Party
From the Organizers: The infamous Pico-Robertson Block Party is back and bigger than ever. Eat at L.A.'s hottest food trucks. Try the premier of Komodo Cafe's highly anticipated summer menu and party the night away. Featuring Grill'em All Truck, Nom Nom Truck, Del's Lemonades, Slammin' Sliders and Coolhaus.
When: Fri, 4/27, 6-10PM
Where: Komodo, 8809 West Pico Blvd., Los Angeles, 90035, 310-246-5153
Cost: FREE
Web: Pico-Robertson Block Party
Saturday, 4/28/12: Best Friends Pet Super Adoption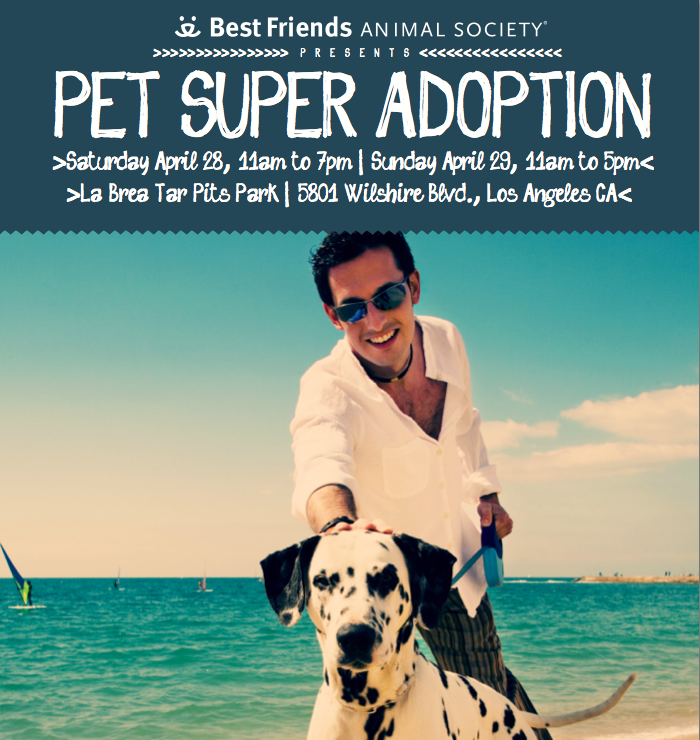 Adopt your new best friend this weekend at the La Brea Tar Pits! Over 1000 pets, from dozens of rescue groups and shelters, will be on hand looking for loving, forever homes. If you have the heart and the desire to be loved unconditionally, please go out and adopt — DON'T BUY! There will also be celebrity guests, food trucks, music and cool pet-related products!
From the Organizers: Adoption policies, applications and fees vary. Typical fees are $50-500 for dogs and $25-250 for cats. Fees include, spaying or neutering, updated vaccinations and microchipping. Some shelter and rescue participate in same day adoptions, so be prepared to bring home your new best friend.
If you plan on adopting, please consider bringing the following: ID, letter from your landlord  (if you rent) stating you are allowed to have a pet, your other dog for a meet/greet and personal references (some rescue groups will require).
When: Sat-Sun, 4/28-4/29, 11AM-7PM
Where: La Brea Tar Pits, 5801 Wilshire Blvd., Los Angeles, 90036
Cost: FREE
Web: Best Friends Super Adoption
Grilled Cheese Invitational
From the Organizers: Bread-Butter-Cheese-Victory! The original, the biggest, the best, the cheesiest, the 10th Annual Grilled Cheese Invitational will take place at the Rose Bowl. It's the biggest thing to happen to cheese since man first learned how to milk a cow! There's a professional grilled cheese competition as well as a People's Choice competition, where attendees are invited to devour and rate $2-$5 grilled cheese delights. The event will also include cooking demos from master chefs, live bands, costumes
When: Sat, 4/28, 11AM-6PM
Where: The Rose Bowl, Parking Lot F (park in Lot K), 1001 Rose Bowl Dr., Pasadena
Cost: $15
Web: Grilled Cheese Invitational

Sunday, 4/29/12: 23rd Annual Fiesta Broadway
Fiesta Broadway is touted as the World's Largest Cinco de Mayo celebration in the world. Join 500,000 other Angelenos as they shut down 12 sq. blocks of downtown L.A. This is one of the biggest street fairs in Los Angeles. There will be tons of food, live music, cultural performances and did I mention food? Homemade. Mexican. Food. Come famished!
When: Sun, 4/29, 11AM-6PM
Where: Downtown L.A. on Broadway
Cost: FREE
Web: Fiesta Broadway